Child Church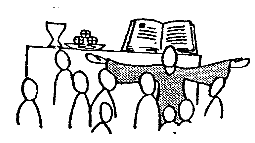 Liturgy of the Word for children in grades K-4 is offered weekly at the 10:30 Mass from September to June. After the opening prayer, children participating in Child Church will go to the school building at St. Charles, where they celebrate God's presence in the Word. The children return to church after the prayers of the faithful.
Scripture readings from children's lectionary
Age-appropriate reflection that connects to the experiences of children
No registration or fee required
No Child Church on Children's Liturgy Sundays
Volunteers are always needed to lead Child Church. Leaders are scheduled 2 - 3 times a year and are provided with materials and support. Please note: All volunteers working with children are required by the Diocese of Rochester to complete CASE training.
Child Church begins September 9th, 2018 at the 10:30 a.m. mass. No Registration Required!